Facebook is facing an unprecedented crisis.
Declarations brought to light from whistleblower Frances Haugen, an ex-data scientist at Facebook, has led to what may be the most threatening scandal in the company's history, bigger and more massive than their previous "big scandal", the Cambridge Analytica.
On the 5th of October, Haugen testified against a United States Subcommittee, divulging dark secret after dark secret of the corporation. She provided a clear and detailed glimpse inside the infamously secretive tech giant. She said Facebook knowingly harms children, sows division and undermines democracy in pursuit of breakneck growth and "astronomical profits."
Despite all the previous scandals that Facebook has faced, this one is a particularly difficult one for Facebook to get through. Haugen was a Facebook employee, making her a particularly powerful critic of the company. She worked for the company for 2 years after having jobs at Google and Yelp and holds a degree in computer engineering and a master's degree in business from Harvard..
At Facebook, she studied how the social network's algorithm amplified misinformation and was exploited by foreign adversaries.
"During my time at Facebook, I came to realize a devastating truth: Almost no one outside of Facebook knows what happens inside Facebook," Haugen told Congress. "The company intentionally hides vital information from the public, from the U.S. government and from governments around the world."
It's because of this strategy that Facebook is now the least trusted tech firm in the United States. It's just a matter of time until the IT company suffers a major setback due to a lack of public trust.
According to Haugen, the corporation is a risk to society because it harms children, incites political violence, spreads disinformation, and promotes controversial material.
Before leaving Facebook, Haugen copied hundreds of pages of confidential information and shared them with legislators, regulators, and The Wall Street Journal, which then published "The Facebook Files" series of reports.
Haugen contends that Facebook won't make necessary changes on its own because it prioritizes profits before people. Haugen isn't the only ex-Facebook employee to express reservations about the world's most popular social media platform. But she stands out for two reasons: she is an enthralling witness who speaks with passion, clarity, and depth. She also brought documentation to back up her claim: thousands of pages of business papers revealing everything Facebook knew about its products.
According to Haugen, a Facebook research revealed that 13.5 percent of U.K. young females said their suicide thoughts increased after they started using Instagram.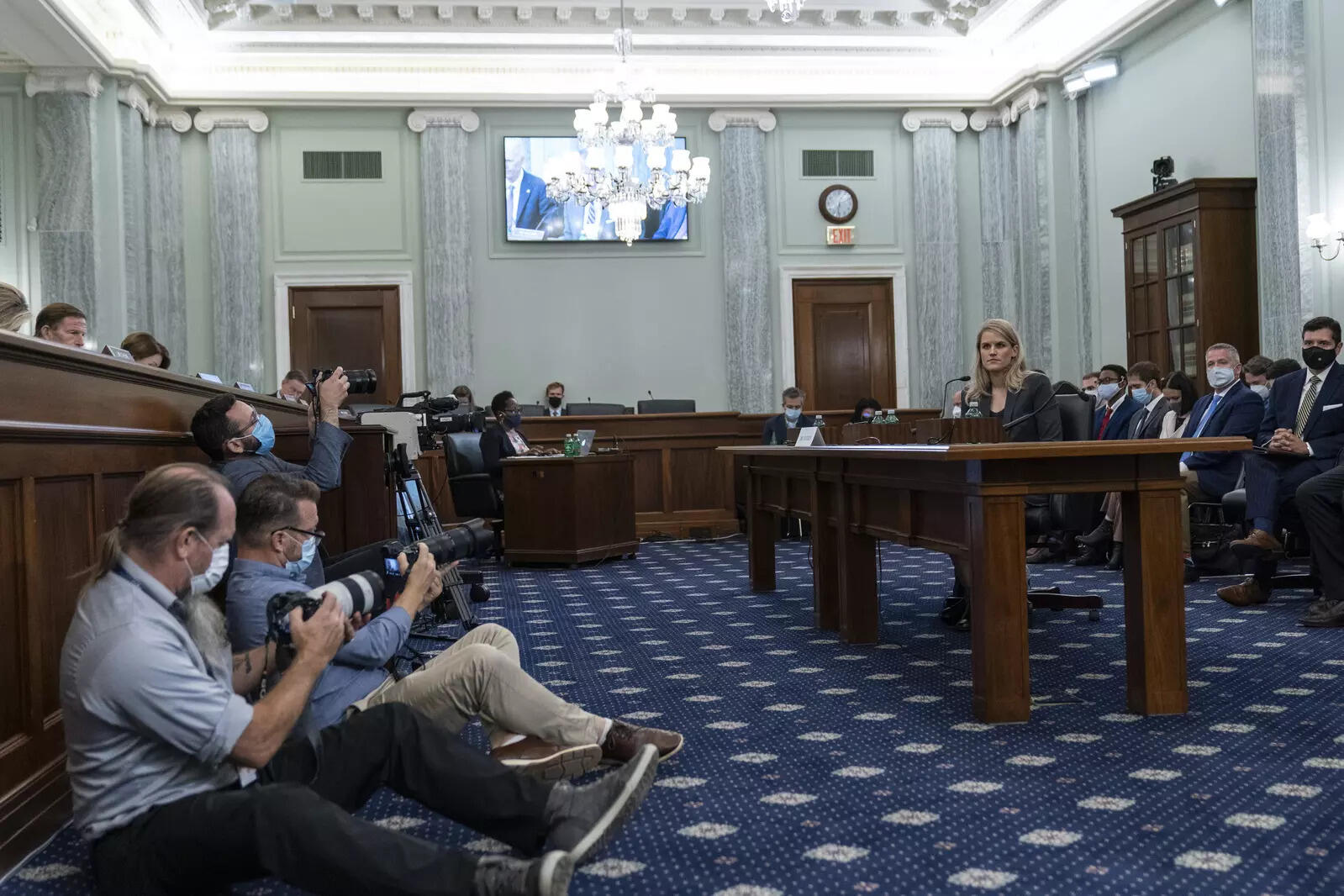 According to another leaked research, 17% of young females believe their eating issues have worsened as a result of using Instagram.
According to more of Facebook's research, which was originally published by the Wall Street Journal, around 32% of young females indicated that when they felt awful about their bodies, Instagram made them feel worse.
After the Journal's reporting, Facebook said it was pausing work on an Instagram product tailored to kids under the age of 13.
At one moment in the hearing, Republican Senator Jerry Moran of Kansas turned to Democratic Senator Blumenthal of Connecticut and said they should put aside their partisan differences to tackle a common goal: reining in Facebook. On such regulation, Blumenthal said: "Our differences are very minor."
Even with bipartisan support for the matter of reigning in Facebook, what can lawmakers do to control Facebook's near total control on social media around the world?
Haugen urged lawmakers to examine the algorithms that drive popular features, like the main feeds in Facebook and Instagram, the algorithms that reward engagement and expose users to sensationalized content.
Haugen's lawyers have filed eight SEC (Securities and Exchange Commission) complaints focusing on Facebook's public statements about issues such as what Facebook knew about how organizers of the Jan. 6 Capitol siege used its platform, how effective it is at removing hate speech and still chooses not to do so, and how Instagram exacerbates body image issues.
According to Haugen's legal team, Facebook employees, including CEO Mark Zuckerberg, misrepresented and withheld critical facts regarding Facebook and Instagram's capacity to damage people.
Haugen's lawyers claim that Facebook broke US securities laws by misrepresenting to investors.
Even the recent double crashing of Facebook, purported by the company to be done by outside hackers, is rumored by parts of the public to be a deliberate shutdown of the company servers to erase incriminating information from outsider access. Although this information is neither confirmed nor denied, many allege it to be very convenient for Facebook to go down just a few hours before the first testimony began.
There's also been reports that Sophie Zhang, a former Facebook data scientist who spoke out against Facebook back in September 2020, is willing to testify in the United States Congress as well while also publicly announcing on Twitter on the 10th of October, 2021, that she had provided a US law-enforcement agency with "detailed documentation regarding potential criminal violations." Her willingness to testify has been apparently encouraged by the bipartisan support that Haugen got after her testimony on October 5th. Zhang was fired from Facebook in August 2020, but before she left she posted a 7,800-word memo detailing how she believed the company allowed authoritarian regimes around the world to manipulate its platform.
It seems that times are tough, to say the least, for Facebook and its public support. Will more whistleblowers speak up in the coming days? Who knows? But what we do know is that it is time for change in the world of social media and tech corporations. Will Facebook finally be brought under control, or will it evade the grips of the law once again, like it barely did back during the Cambridge Analytica scandal? This remains to be seen.